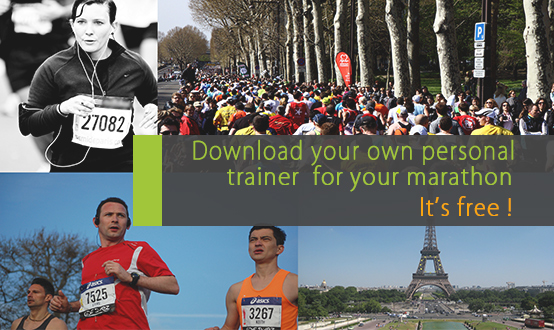 Welcome to Jiwok, your personal trainer in your mp3 player.
What if a coach was running the Schneider Electric Marathon de Paris with you?
Jiwok is now able to coach you, not only in training, but also during the actual race.
A professional coach will encourage you, give advice, and push you to achieve your marathon goal, while at the same time giving you important details about the course.
Your coach will also keep you informed of your time and distance throughout the race. An added bonus, your coach will become a 'running tourist guide', talking you through the various historic sites and other architectural wonders of Paris that you encounter in your stride.
Your session will include an mp3 music track based on your favorite music and mixed with the voice of a Jiwok coach.

For example, you will be able to hear:

Running advice:
Stay calm, there are many people around you, but focus on your running plan
In the climb, use shortened strides
Provisions coming soon, do not miss the opportunity to refuel
You should be near the third kilometer


Running tourist guide:
Musée du Louvre
Just after the Tuileries Gardens on your right you'll see the Louvre and its famous glass pyramid. It is the largest museum in Paris and its surface is one of the largest in the world ....