Get fit and prepare for a future race - 2 sessions per week over 4 weeks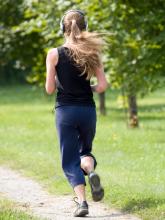 Type :

Program

Duration :

4 weeks

Level :

Intermediate (regular physical activity)

For :

men, women

Rhythm :

2 times/week

Coach :

Coach Jiwok

Number of workouts :

8
Objective

If you struggle to find the motivation to run on your own, this program will guide you in the right direction, improving your fitness while at the same time preparing you for the next fitness challenge ahead.
Description

Before starting to train for a future race, (such as a 10k or half marathon), Jiwok's program will help you maximise your current fitness level and prepare you for this next challenge.

It includes 2 workouts per week over 4 weeks.
Coach Guidelines

Before you begin, check your running equipment, especially your trainers. If you have any doubts on your fitness form, have a physical fitness test or approval from your doctor to proceed.

Following the workouts, stretch well and be sure to drink lots of water.

Good days for training, if possible, are Wednesday and Saturday or Sunday.

Good Luck.