Recovery running between workouts - 2 sessions per week for 6 weeks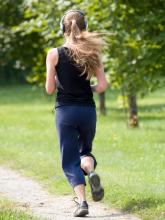 Type :

Program

Duration :

6 weeks

Level :

Advanced (high level of physical activity)

For :

men, women

Rhythm :

2 times/week

Coach :

Coach Jiwok

Number of workouts :

12
Description

Recovery workouts are designed to boost fitness despite being shorter and/or slower than regular workouts.

This program is designed with gentle endurance sessions to adapt to your fatigued condition and facilitate recovery from preceding hard training.

At the end of this recovery phase, you will be ready to start another training program.
Coach Guidelines

Enjoy the recovery period to rejuvenate physically and mentally. Focus your mind on pleasure, rest and relaxation.

Two 'fast-slow-fast' sessions are scheduled later in the program as a neuro-muscular booster. RNT (Reactive Neuromuscular Training) acts as a training tool to increase speed, explosiveness, and power.

It is also the time to focus on stretching to maximise recovery and joint mobility. Massages are beneficial at this stage.

Enjoy this recovery phase.